I was so delighted when I got an email from Tina over at Mom's Crazy Cooking who invited me to take part in her Crazy Cooking Challenge!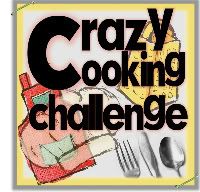 What is the Crazy Cooking Challenge you ask?
"We are a group of bloggers that are getting together in 'Blog World' to bring you ONE FEATURED FOOD ITEM each month of the year! This ONE ITEM will be made by different bloggers all in their own special way, but we will ALL be making the SAME ITEM!!! We will all post together on the same day, at the same time and the linky party will have ALL OF THE BLOGGERS posts linked up."
How great is that?!?! It's one stop shopping for a multitude of different recipes!

Once the posts are live and up on the linky party you'll be able to go and vote on your favourite recipe to find the ULTIMATE RECIPE! Like Top Chef, but with recipes!
You can check out my first Crazy Cooking Challenge post all about Mac & Cheese on September 7th. PS: If you have a faboosh mac & cheese recipe on your blog, be sure to tell me. Who knows, it could be the recipe I make?