Yes! It's back! Stashbusting September with Robin over at the T-Shirt Diaries is back for another wonderful installment of STASHBUSTING!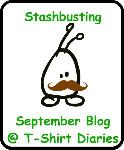 I know it totally sucks to think about September, but it'll be here before you know it! So if you want to get in on the fun, sign up for Stashbusting September right now! For all the deets about this awesome month of upcycling check out
Robin's blog
Not to mention, yours truly will be guest posting over at the T-Shirt Diaries during Stashbusting September. So make sure to check back to find out when I'll be hopping over to bust some stash!
AND I'll be donating a great stash-busted prize to Stashbusting September! So you'll definiately want to join in the busting to win some lovely handmades from me! Only blogs who have signed up for Stashbusting Spetmber can win-so get over there!
I can't wait to see what other peeps have stashbusted...