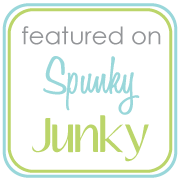 I'm always so stoked when someone features me! It's kind of mind blowing !
If you haven't heard, Miss Halsey over at Spunky Junky is throwing a new weekly party called "Stick a Pin in it". It's a great party to showcase all the lovely projects you've been inspired to make from Pinterest.
Remember these lovely ladies?
Well I linked those up at last weeks party and wouldn't you know it, they're being featured today over at Spunky Junky. Stop by and check out all the Pinterest Projects...and don't forget to link up your goodies too!