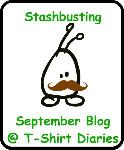 Hola chicas! I'm very excited to announce that I am guest posting over at The T-Shirt Diaries today as part of Stashbusting September! If you have a lot of scrap scrapbook paper lying around, you'll definitely want to check out my post!
What are you waiting for?
Hurry those buns over there!